All you fools who spend a lot of money on nice furniture should be ashamed of yourselves. CASUALS!
New couch! She's a beaut!
quote:

(2/17/2013 03:35:00 PM) - Al

We're not real big on furniture, when we moved here, we needed a family room sofa. We looked in a couple stores, and finally found a returned one that had ink stains and a tear. It didn't even have a price on it. I asked, and the guy had to go check, and came back with a $150. It's still stained and the tear has been against the wall since we got got home.

At least a couple times a summer, we see an old sofa on the side of the road which looks to be an improvement, but it won't fit in a vehicle.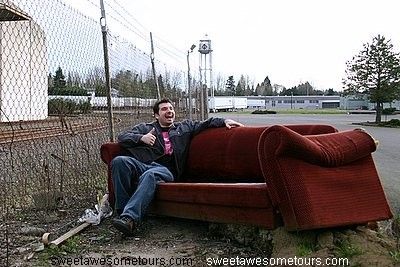 FIFTY DOLLAR COUCH!!!!!!!!! SMELLS LIKE CAT PEE, BUT OTHERWISE LIKE NEW!!!!!!!!!!!!!!!!